The Ice Water Tank ZLV with integrated copper heat exchanger (spiral) is designed for an acummulation of cold inside of the mono-propylen-glycol solution and for its subsuqent use in the processes of making, storaging and maturating of beer. The ZLV is fitted with a circulating pump for homegenization of the temperature and for the prevention of the freezing of the copper spirals, with only a minimum of power consuption.
The ZLV is standardly equipped with a single pump for circulating of the cooling solution inside the closed circuit between the brewery components and the ZLV.
If the second cooling circuit is used, the ZLV is standardly equipped with other connection points (but without a pump)
The cooling of mono-propylene glycol takes over the cooling unit VLV, which is always designed for the volume of the ice water tank. If required, one ZLV tank may have several VLV cooling units connected in series to increase the cooling performance. The recommended maximum distance of the cooling units from the ice water tank is 25 m.
The ZLV is mounted on six adjustable legs and closed by a stainless steel top cover.
Cooling solution (recommended mono-propylene glycol solution) is not included. We recommend that you deal with a food-grade liquid according to your options.
Parameters: parameters can be tailored to the needs of the customer

Total volume
2 197 l
Useful volume
2 000 l
Height
1 450 mm
Length
1 400 mm
Width
1 400 mm
Material
1.4301
Polyuretan insulation
50 mm
Insulation surface – brushed sheet
1.4301
1.1.1970
Water inlet 2x
DN 32
Water outlet
DN 40
Thermosensor pocket
ø10 mm
Min. Working temperature
-15°C
Max. working temperature
85°C
Drain and filling armature
DN 32

Standart electro accessories:

Thermosensor
NTC
Circulating pump
Willo
Digital thermometer
DIXEL XR 20 D (230V 50 HZ)
Electric switchboard:
Main switch
380V 16A
Compressor contactor
3x230V 50 Hz 10A
2x motor starter
4-6A 380V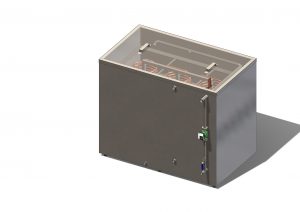 Photogallery: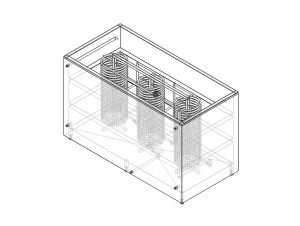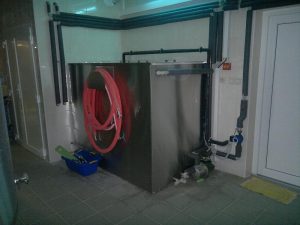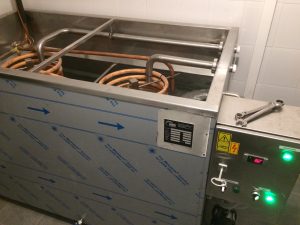 Series: