Cylindrical vessel situated on three legs with wheels, for a cold way of hopping. HopGun melts granulated or dried hops in a finished beer. It does not raise the bitterness of the beer and it support the hop aroma. Effective leaching with uniform and definable aromatization reduces the consumption of hops. The equipment is very simple to use and could be easily integrated into existing lager department.
Perks
Highlighting the hop aroma in the finished beer
Sensitive and careful disolution of hop pellets (type 45 and 90) or a dried hopsin the cold beer
Optimal extraction and benefits of essential oils into finished beer
Determined time of extraction
Without heating and stirrer
Excellent separation of extracted substance – don´t cause problems during filtration
Parameters:

Height
770 mm
Diameter
204 mm
Real volume
26 l
Useful volume
25 l
Weight
42 kg
Special permeable filtration candle from stainless steel.
Simple sanitation when connected to CIP station.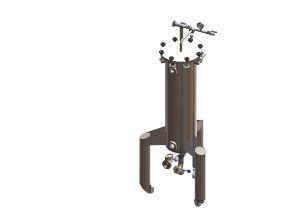 Photogallery: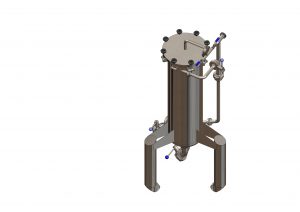 Series: