Six-vessel industrial mini-brewery
As well as the restaurant mini-breweries made by our company, also the industrial variants can be delivered in two basic variants.
However, comparing to the restaurant mini-breweries, these variants differ in more than just in the type of brewery set jacketing. The brewery set of an industrial mini-brewery can be made in three-vessel or six-vessel variant. Thus, the six-vessel brewery set consists of six separate stainless steel tanks, namely a wort kettle, pre-mash kettle, mash kettle, malt container, filter tank and whirlpool. The industrial variants of our breweries are equipped with a service platform with stairs, a sink with sample cooling and a touch screen for semi-control or full automation of the brewery set. However, in the case of large six-vessel brewery set, we recommend choosing a full-automatic version.
Although called "industrial", even the six-vessel brewery set is, by its design, an adornment of the entire mini-brewery. The exterior jacketing can be made out of ground or polished stainless steel and together with all-glass inlets in all of the six tanks, it creates a pleasant design contrast to the rest of the technology. This statement is best confirmed by already existing mini-breweries of our production such as the Frau Marta Brewery in Rostov-on-Don, Russia, or Gellert Brewery in Astrakhan, Russia
Like all other types of our brewery set, the six-vessel industrial ones are able to brew both in decoction and infusion methods, and therefore, they are able to produce both, the classic double-mash Pilsen lager or the top-fermented specials such as APA, IPA etc.
The duration of one batch is from 8 (infusion) to 11 hours (decoction – double-mash). The six-vessel brewery set can produce up to 6 batches in 24 hours.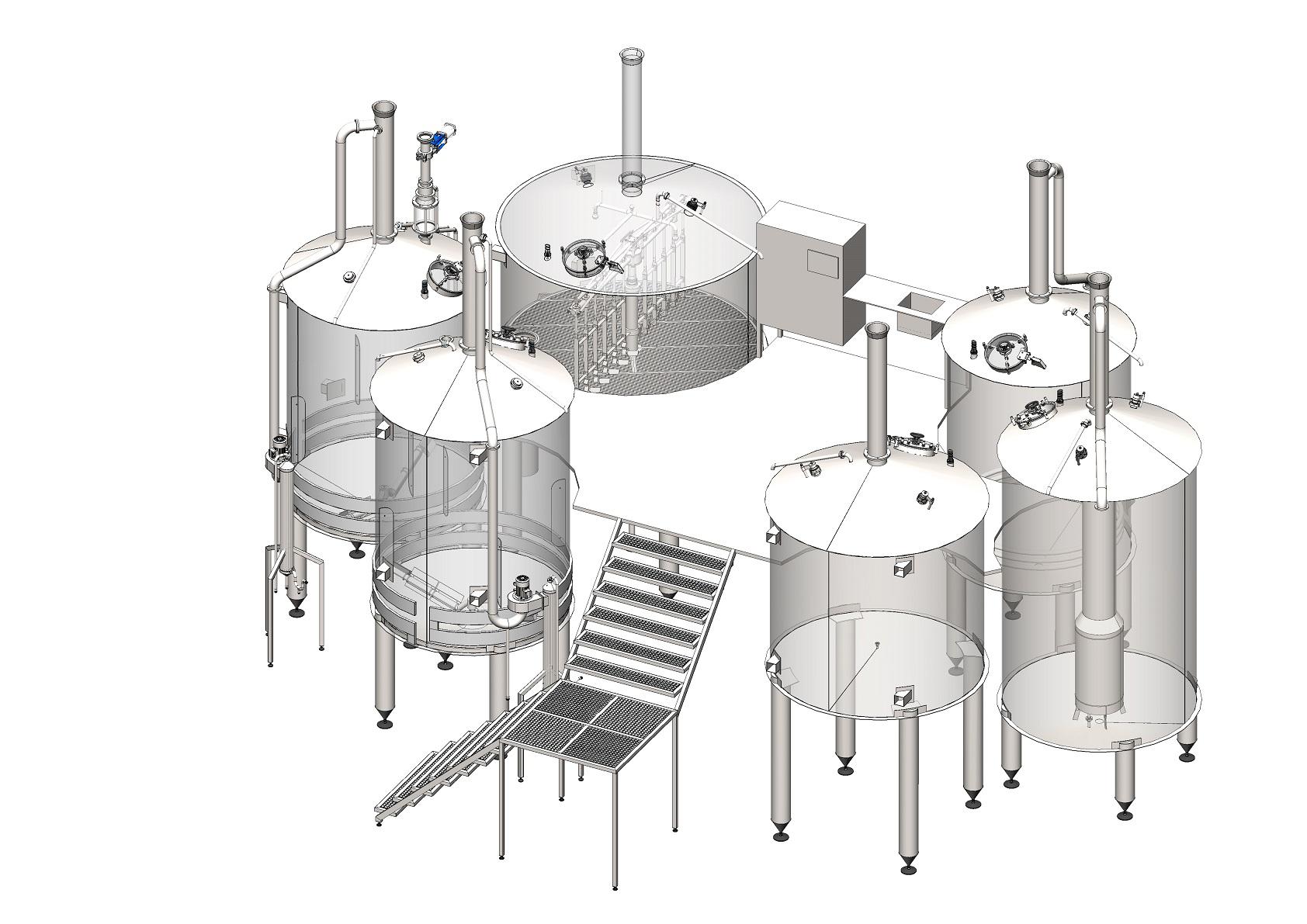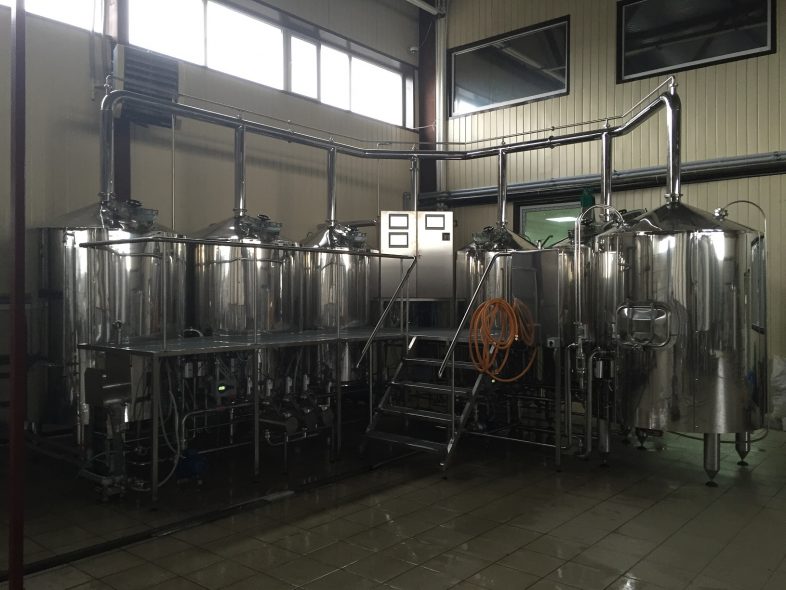 CRAFT VERSION
Both types of our industrial brewery set can be adapted to the needs of brewing today's very popular Craft beers. These types of beers are more difficult especially because of their higher alcohol volume and they put a little different demands on the brewery set than the classic Pilsen type of beer.
Therefore, the CRAFT version of our industrial brewery set contains several changes to the standard version, namely:
1) Electric lifting of the stirrer blade in the filter tank and that up to 200 mm.
2) Increase of the filter tank capacity by 20% minimally.
3) Special type of the bottom of the filter tank with increased permeability compared to the standard variant.
Various features of the CRAFT version of our industrial brewery set can be combined with the standard type and, therefore, you can come up with a completely unique form of a brewery set tailored to your requirements.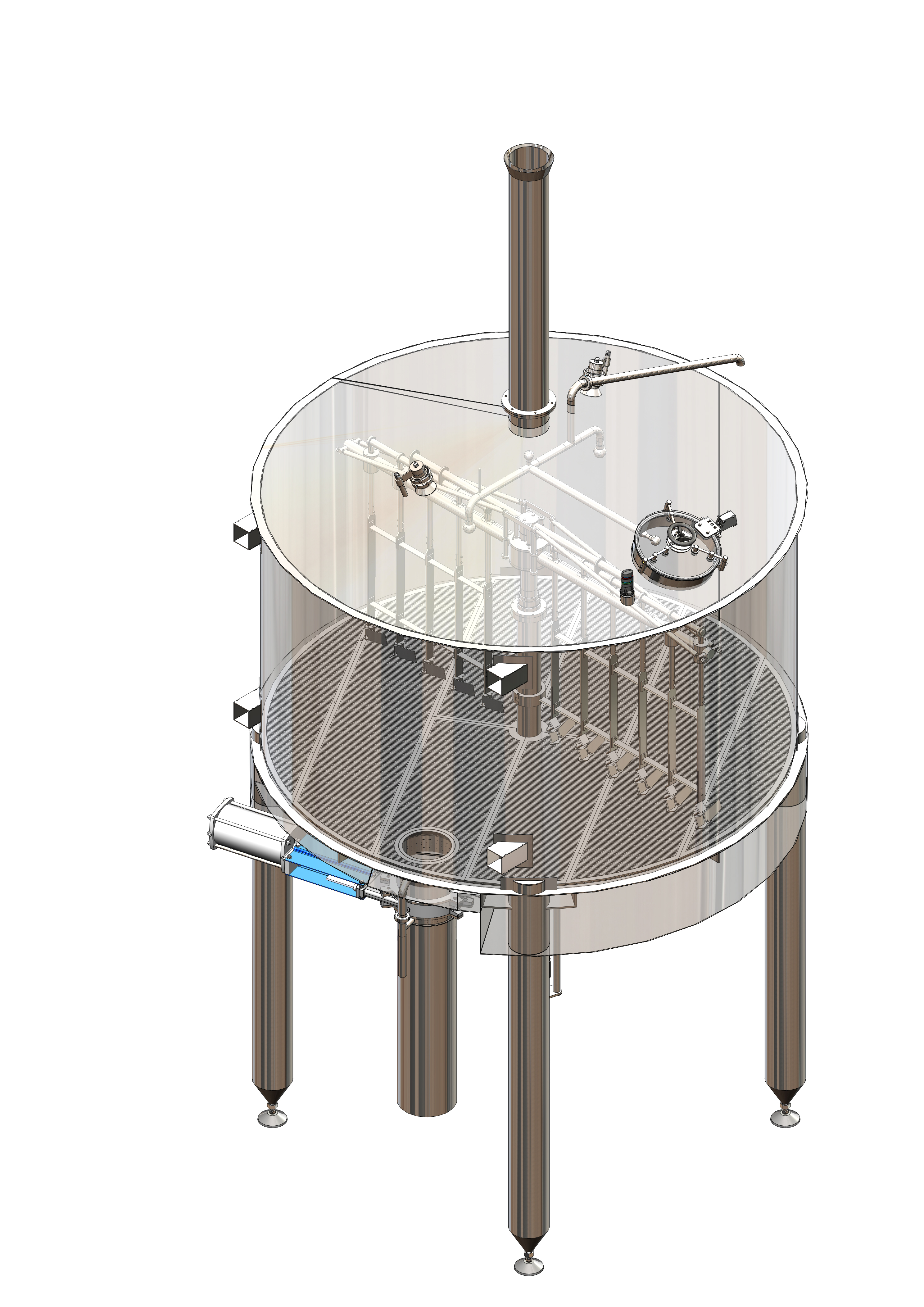 A model example of an industrial mini-brewery with a 2,000-liter six-vessel brewery set and of a production up to 16,000 hl / year
Description of selected model example components:
The following components are included in this model example of an industrial mini-brewery
Component
Pcs
Malt grinder 600-1000 kg/hour. ROPPI 1 000
1
Spiral malt transporter. SDK7
1
Water treatment – iron removal and water softener 2500 l/hour. ZOZ26
1
Brewing set – industrial, six-vessels 2 000 l. V20PN5T
1
Wort cooler 2 000 l/hour. CHM20
1
Hot water tank 6 000 l. NHV60
1
Steam generator, gas. VR250 – 250 kg/hour
1
Cylindro-conical tank 8 000 l. CKT80
10
Cold water tank 6 000 l. ZUPV60
1
Ice water tank 4 000 l. ZLV40
1
Water cooling unit. VLV125
1
Sanitation unit. CIP500
1
Yeast regeneration tank - 120 l. RGK120
1
KEG sanitation and filling unit - 30keg/hour. Sankeg 35
1
Oil-free compressor for sterile air with filter and dryer. KSV60 - 60m3/hour
1
* The assembly and the assembly material of the brewery is always calculated according to the additional information of the particular project.