M.B.S. Restaurant breweries
Restaurant breweries by M.B.S. can be delivered in several different combinations of technology. In terms of a brewing set, it is possible to divide the offered options into a traditional copper brewing set and its modern version: a polished stainless steel brewing set with brass elements. The brewing set makes a heart of every brewery, and it is particularly true as far as for restaurant mini-breweries. The brewing set, displayed in a visible spot for customers, makes half of the marketing of each successful restaurant brewery. In addition to its design qualities, by which the brewing set creates the unique atmosphere of each pub / restaurant, it also creates the limits of the possible production of the mini-brewery.
Restaurant mini-breweries, whether the copper or the stainless steel versions, are able to brew by decoction or infusion methods and, therefore, are able to produce both, the classic double-mash Pilsen lager or the top-fermented specials such as APA, IPA etc.
The duration of one batch is from 8 (infusion) to 11 hours (decoction - double-mash).
Once you picked a brewing set, it is still necessary to decide how the main and final fermentation will take place. From this point of view, the main fermentation can take place in open fermentation tanks or in cylindrical-conical tanks. Final fermentation can then take place in air or water cooled lager tanks, each of which offers its pros and cons. While selecting them, you will certainly need to take into consideration your spatial possibilities, the kind of selected cooling, possible construction modifications and their costs, and last but not least the price of such beer tanks. Then you just select the horizontal or vertical version of the tanks.
A model example of a restaurant mini-brewery with a 1000 litres brewing set and of a production up to 2000 hl / yr.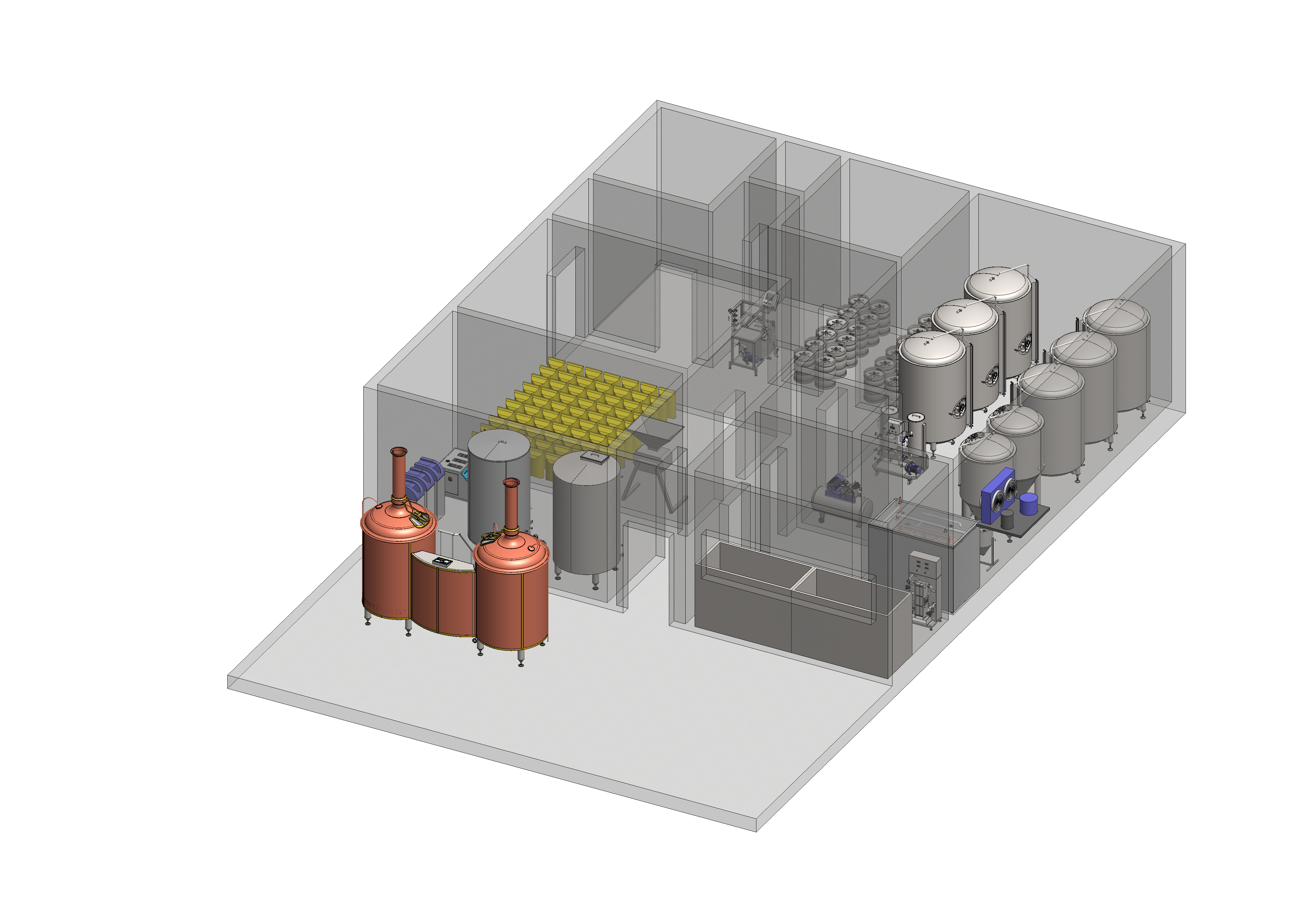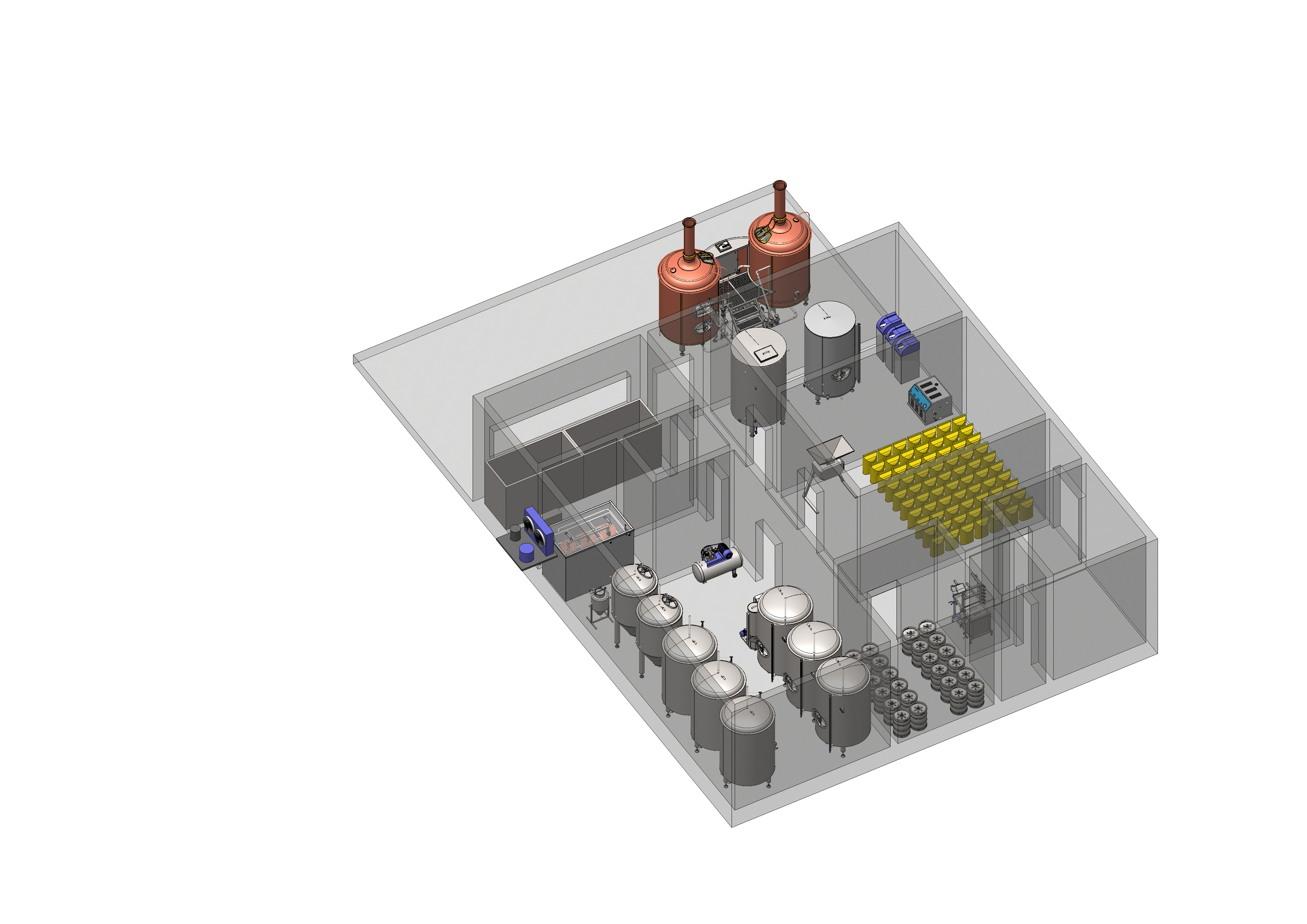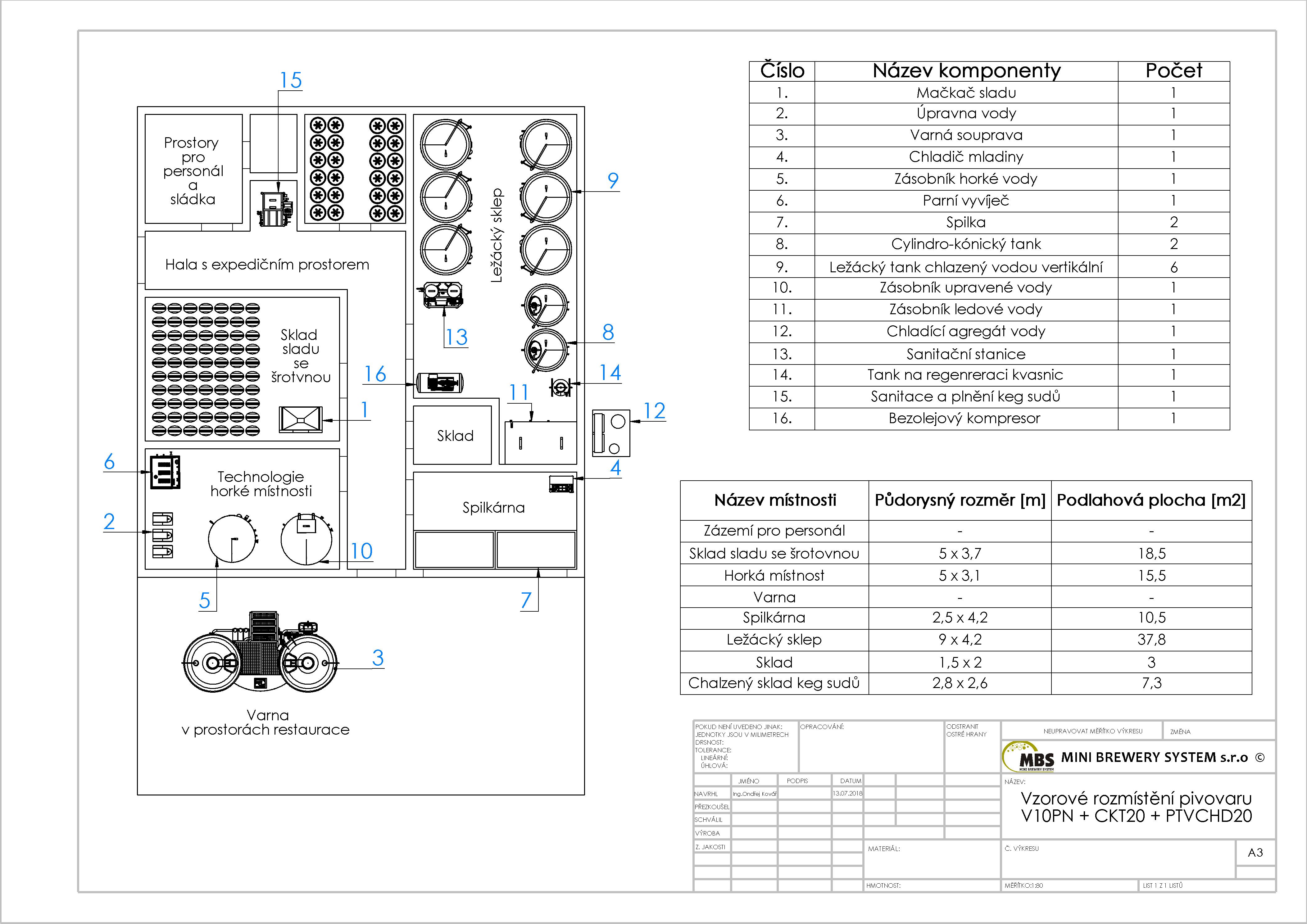 Description of selected model example components:
The following components are included in this model example of a restaurant mini-brewery
Component
Pcs
Malt grinder 600 kg/hour. ROPPI 600
1
Water softener 1000 l/hour. SMK560
1
Brewing set – restaurant, copper 1 000 l. V10M
1
Wort cooler 1 000 l/hour. CHM10
1
Hot water tank 2 000 l. NHV20
1
Steam generator, electrical - 50kW. BM460/52
1
Fermentation tank - 2 000 l. SPA20
2
Cylindro-conical tank 1 000 l. CKT10
2
Vertical lager tank cooled by water 2000 l. PTVCHD20
6
Cold water tank 2 000 l. ZUPV20
1
Ice water tank 2 000 l. ZLV20
1
Water cooling unit. VLV64
1
Sanitation unit. CIP50
1
Yeast regeneration tank - 40 l. RGK40
1
KEG sanitation and filling unit - 10keg/hour. Sankeg 10
1
Oil-free compressor for sterile air with filter and dryer. KSV25- 25m3/hour
1
Draft bar with a draft tower-copper, 6 taps. 2T6
1
* The assembly and the assembly material of the brewery is always calculated according to the additional information of the particular project.